Matis Suveülikoolis Ateenas
Esimene Suveülikool oli mul Kreekas. Algne põhjus üldse suveülikooli kandideerida oli mõistliku hinna eest reisida: tahtsin kindlasti ära läbi käia Ateena kuulsad vaatamisväärsused ja puhata mõnel mõnusal Vahemeresaarel. Sellest, mis täpselt on AEGEE ja mida kujutab endast suveülikool, oli mul väga ähmane ettekujutus.
Peale suveülikooli lõppu oli mul Akropolisest ja paradiisirandadest veel palju eredamad mälestused vingetest pidudest, lahedatest ettevõtmistest ja ennekõike headest sõpradest, kelle ma sealt sain. Suveülikooli ei saagi kirjeldada, seda peab kogema!
Matis Joab
___________________________________________________________________
Anna-Marita suveülikool Itaalias
Minu travelling summer university FRench Kiss the ITalian Beauty oli korraldatud AEGEE-Lyon ja AEGEE-Genova poolt. Kahe kuuma juulikuu nädala jooksul külastasime Prantsusmaa toidupealinna Lyoni, Alpide Veneetsiaks kutsutavat Annecyt, Itaalia ajaloolist sadamalinna Genovat ning viite maalilist külakest Vahemere kallastel. Tutvusime kohalike kultuuride ja ajalooga, panime oma sportlikke võimeid proovile seikluspargis, matkasime mägedes, sõitsime vesiratastega ning ujusime karastavas alpijärvekeses, nautisime kajakite ja surfilaudadega laineid Vahemerel,  õppisime kung-fud, salsat, veetsime mägedes tähistaeva all imelise kitarri ja lauluõhtu vaatega ookeanile ning veel palju palju muid lahedaid tegevusi ja diskussioone ja seda kõike koos 25 osalejaga 16 erinevast riigist (+veel hulganisti ägedaid korraldajaid).
Kahe nädalajooksul koos naerdes, üksteise kultuure tundma õppides, magades, süües, matkates olime täielikult kokku kasvanud ning loonud rahvusteüleseid sõprussuhteid hoolimata välispoliitilistest sündmustest. Peale pisaraterohket hüvastijättu jäi meenutuseks palju pilte ja videosid ning lohutuseks mõttetera: "Don't cry because it's over, smile because it happened!"
Anna-Marita Anderson
___________________________________________________________________
Kätlini suveülikool Ukrainas
Esimesed päevad veetsime Kiievis. Käisime Maidanil, suuremates uhketes pühakodades, Suure Isamaasõja muuseumis. Seiklesime rühmadena linna peal kogudes punkte õppides selgeks rahvatantsu, Lenini raamatu hoidmise poosi ja maitstes turu peal salo. Tasub proovida! Veetsime aega maa all ja maa peal. Kiievi metroo on lummav, kuid igaõhtune taksosõit kambaga peolt koju oli superluks – eriti mitmepeale pani see summa tundma end justkui jõuka lääne-eurooplasena. Kiievi saarel on lahe vaba aja park ning rannaklubi, kus noored aega veedavad – see oli mõnusa surfi atmosfääriga. Samuti jääb unustamatuks öine paadisõit ja -disko Dnepril koos AEGEE vilistlastega.
Tšeronbõl on täiesti toimiv asula, kuigi seal elab lisaks kohalikele töötajatele vaid 1 laps, kes seal salaja juba 13 aastat on elanud. Inimesed käivad ringi sõduritoonides tunkedes, sest see on hea ja määrdumist mitte näitav tööriietus. Kiirrongid toovad inimesi tööle. Kohalikus jões ujuvad megasuured kalad kohalike töötajate rõõmuks. Keegi neid toiduks püüda ei soovi. Kui hea giid on kaasas, saab päris hea ülevaate, mis kohas on radioaktiivsus ülikõrge ning missuguseid riideid on parem kanda ning kuidas ennast radioaktiivsusest puhastada.
Kiievist võtsime suuna Odessa poole. Vahepaeale jäid väiksemad linnad, kus külastasime põnevat hiiglaslikku parki ning tegime paarikümne inimese hiina traditsioonilise kanuuga sõidu Dnepri keskel asuvale saarele. Saarel oli nii palav, et pidime enamus aega vees veetma, kuni tuli meeletu paduvihm ning meetrikõrgused lained. Tagasiteel, mis vältas ligi 30min, saime mõnusalt vett paati ning 3 korda oli tunne, et nüüd saab pidu läbi ja alus upub – õnneks oli hea meeskonnatöö ning kohalik instruktor jagas käskluseid nagu raftingu puhul. Paadi eesotsas oli trumm, mida rütmi jaoks taguma pidi ning kõik hõiskasid kooris rütmi – lõpp hea, kõik hea. Paar dokumenti ja telefoni tuli riisi sisse kuivama panna, kuid varasema kanuumatka instruktorina jätsin õnneks enda kraami ka päikselise minekuga kaldale. AEGEE meeskond on võimas ning tead, et saad üksteist usaldada. No panic in Titanic!
Üheks läbivaks peateemaks oli tervis ja sport: lisaks paadisõidule oli meil pikniku veetes tervisliku toitumise diskussioon, ühe liikme vanemate villas smuutide tegemise praktika ning aktiivtegevustest käisime veel seikluspargis ronimas. Seikluspark oli kaunis metsas ning seal kohtas ilusal suvepäeval palju pruutpaare – üheks ülesandeks SU vältel tuli teha nii palju fotosid koos pruutpaariga, kui võimalik – oli hea võimalus. Kiievi vabaõhumuuseumis pool päeva jalutades ja ringi vaadates õppimise ukrainia keelt läbi laulude ning põneva sõnavalimi, samuti mängisime frisbee´t. Päevad olid parasjagu chillid, aktiivtegevusi täis ning õhtud möödusid kohalikes pubides ja klubides tantsides ning kohaliku gurmeelauga tutvust tehes.
Odessa on täiesti teistsuguse atmosfääriga linn kui Kiiev: populaarne ooperimaja, tänavamuusikud, jalgpallifännid, palju noori ja tudengeid, suur sadam ning huvitavad rannad. Rannas mängisime AEGEE lauamängu ning käisime Mustas meres kümblemas. Trepid, mis viisid mere äärde – neid pole vist valmimiseaegadest saati korrigeeritud – sealt võib lihtsalt alla veereda. Palju lahedam variant oli kabinetiga köisraudteel üles-alla sõita, kuigi oleksin peaaegu uuele ringile läinud, sest masin ei peatu kunagi – tuleb lihtsalt kiirelt sisse ja välja hüpata.
.
Need inimesed, kellega 2 nädalat Ukrainas möödusid olid mega lahedad – paljud kultuuride erinevuse küsimused ning geopoliitilised küsimused said vastuse. Tänu AEGEE sündmustele üle kogu kontinendi, oleme saanud kokku ka pärast Suveülikooli – tundus esialgu mõeldamatu, et kohtume taas, kuid piirid Euroopas pole enam suureks küsimuseks ning transport lennates ja mööda maad on ka tudengitele ja noortele aina enam võimalusi pakkuv – vaid planeeri, käi, õpi, reisi & naudi!
Päris lahe on omada nõnda palju häid tutvusi, kes omakorda teavad paljusid teisi avatuid inimesi – minu arvates on AEGEE teinud suurepärast tööd Euroopa rahvaste koostööks ning kultuuridevaheliseks kommunikatsiooniks.
Soovitan elu jooksul läbi kogeda kas või üks Suveülikool AEGEEga ning saada tunda, mis tähendab Euroopa Liidu slogan "Unity in Diversity" – see on võimas tunne!
Kätlin Oinus
___________________________________________________________________
Valteri reisiv suveülikool Hollandis ja Saksamaal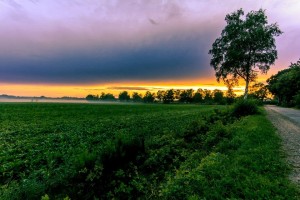 Valter went to Eindhoven and Köln…
If people start thinking about travelling there is always a question that comes to our mind: which is the best way to travel? This Summer University gave us opportunities to try several different types of travelling.
Arriving in Eindhoven was easy, we got picked up by organisers who drove us to the scouting place that would be our home for the next few days. The environment in Eindhoven was perfect as you can see. To make the day even more interesting we started to play a Saboteur game while being dropped into the nearby town from where we had to find our way back. It was quite a fun game as we were divided into groups, we had to find our way back to the accommodation while texting with the other team in order to get the coordinates. The start of our SU was awesome, we were taken to an historical open air museum, where we could feel like people from the early iron age. We had the opportunity to try to light a fire with flint stones like cavemen and to dress up like a warrior. There, we had some old school punishment devices, which were used if the participant was not behaving well.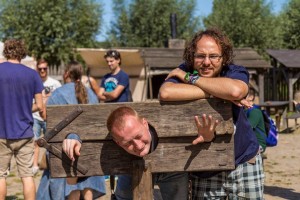 After this I felt confident that I can survive in medieval time style the whole SU, but I dropped that idea as soon as we had to cycle a few kilometers to the next park. I did not feel like walking the whole way, so I went back to the 21st century. After lunch we had a chance to play the second part of the Saboteur game, which consisted of walking around the park and looking at pictures of people we didn't know, but who apparently were really, really famous in the Netherlands. The peak of the day was our evening Saboteur grand finale that consisted of carrying big barrels, burning a rope until it breaks and filling a 1.5 liter water bottler with our mouths. It all went well until my team's saboteur accidentally spilled our whole water bottle and we lost. Despite that it was a good day.
Then we went to Nuenen to have a tour about Van Gogh. It was fun, we saw cows and a windmill that was featured in some of his paintings. After the tour we headed to our new accommodation place where we stayed the rest of the time in Eindhoven. The next day we got a university tour from where the brightest minds of Eindhoven come. Since most of us were quite new to the AEGEE scene, we had a great presentation about AEGEE to learn the basics.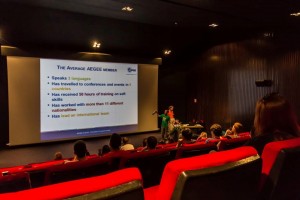 The next thing that was waiting for us was Amsterdam. Amsterdam was for me one of the highlights of the Dutch part, I am quite sure that I was not the only one. It's because everything was a bit different there, many things were legal, which are not in other countries. We used the train to get from Eindhoven to Amsterdam, which was easy and fast. Mostly we preferred to be as Dutch as possible, so we had bikes that we used to ride many, many miles. We actually had a bike trip from Eindhoven to Venlo that was about 60km long. After Venlo we had to go to Cologne not by bike, but by hitchhiking. For most of the people it was their first time doing something like this. Despite that, everybody was really into it and all went well, everybody arrived safely to Cologne. Most people said it was a really fun experience, although a bit boring because it depended of luck if you got picked up or not. It took me over three hours to get a ride.
Heading to Germany we had great hopes, because the previous part organized by Dutch people had been wonderful. And we were right, the German part was as awesome as the previous part. If you thought the Netherlands was a beautiful country, don't forget about Germany. It was as pretty as the Netherlands, even on a rainy day.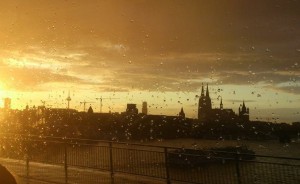 After arriving to Cologne we went to our scouting place, which was a nice house with a big garden were we had a huge tent to sit and relax in. The second day in Germany started out fine, everybody was up in the morning… well, sort of. We went to the city to have a great city rally (which my team won of course), it consisted of making a fake tour guide to the people near the Cologne Cathedral, finding Wally, collecting Kölsch laws and words and many more wonderful things. The evening ended with all the group members going to a karaoke bar. A big part of the group said that they couldn't sing, it changed instantly when well-known tunes started to play, almost everybody sang at least one song, the best of us sang more songs than I can remember. The next day was going to be even better, because in the evening there was an event of which you may have heard, it was the European Night. Every nation's finest AEGEE members brought the best of what they had to offer for us. People who had already done a great warming up in the European Night continued to go out to a club, where everybody could let themselves free and just dance like there  is no tomorrow. And they did, they danced. Then, a day at the lake. Well that was the original plan, but the weatherman thought otherwise and it rained the whole morning. So we dropped the plan to go to the lake, because we had our own little lake in the backyard. Sadly no one tried it. Instead we went to discover Cologne. Everybody was quite sad because it was quite the bad weather, but it changed once we arrived to the Lego shop, people's smiles got even bigger than Joker's from Batman, even the Grinch's smile was nothing compared to ours. Coming back the organizers had prepared a barbeque for us. It was good. The next day it was Brühl and Bonn time, Bonn was the old capital of West Germany. We were taken to the Brühl castle, everybody was really looking forward to seeing the mighty castle of Brühl. I am no castle expert but that was no castle, it was a big house that we might be called a palace. After Brühl's "castles" we moved forward to the city of Bonn, birthplace of Mozart (which everybody already knew of course!), there we went to the House of History where we got really detailed information about the history of East and West Germany, and we saw a real original moonstone!
Sadly this awesome time ended. The last party was a white t-shirt party where we wrote good things on each others clothes. I hope that all of us can join together for at least once somewhere in Europe! Thank you all for this memorable summer!
Written by Valter K, AEGEE-Tartu
___________________________________________________________________
Cärolini suveülikool Hollandis
AEGEE'ga liitusin just tänu Hollandi suveülikoolile, kuhu kandideerida tahtsin ja kus ka ära käisin. Sihtkoha valisin kultuuri ja tegevuste põhjal, terve suveülikooli ajal sõitsime Hollandile kohaselt ringi jalgratastel. Ühel päeval õnnestus meil ratastega teise linna välja sõita, mille vahemaa oli üle 50 km. Kokku külastasime päris mitut linna, nt Ede, Nijmegen, Utrecht, Haagi ja muidugi Amsterdami, mõnel õnnestus ära käija ka Rotterdamis – ehk siis oli tegemist reisiva suveülikooliga.
Suveülikooli ajal tehti meile rohkesti workshope Hollandi kultuuri ja riigi ajaloo kohta, külastasime Haagises Rahvusvahelist Kohtumaja ja seletati, miks on Amsterdam kuulus oma hemp cake'idede pärast ning miks see neil legaalne on. Seejuures leidsin palju sõpru ja tuttavaid, mõnedega neist suhtlen siiani ja aeg-ajalt käime üksteisel külas. Kuivõrd osalejad olid tulnud erinevatest Euroopa riikidest, on hea teada, et reisima minnes ootab mind alati keegi ees.
Cärolin Olluk
___________________________________________________________________
Annika suveülikoolis Hispaanias Coruña's



Kõik Suveülikoolid leiad suveülikoolide ametlikult koduleheküljelt: